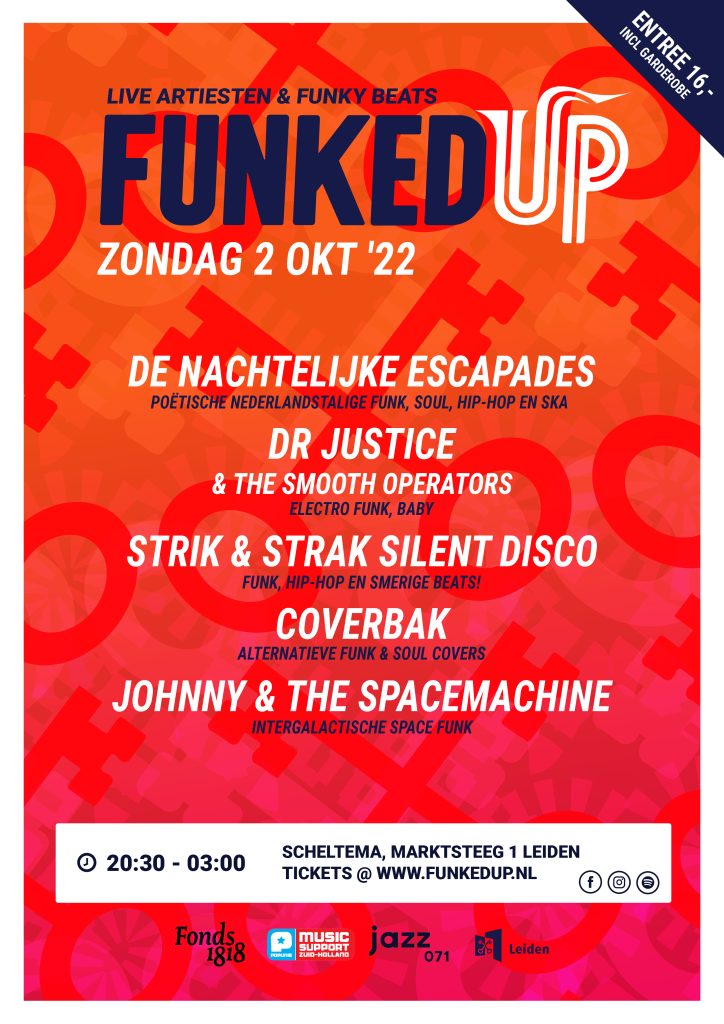 Funked Up – Leidens Ontzet Edition
The 30th Funked Up!
After a sold-out edition during the previous Leidens Ontzet, we wanted to organize a Funky night again and on Sunday, October 2!
There is little to do in town this evening because it falls on a Sunday and for several years we have missed the live music a funky groove that just belongs to this beautiful party anyway! So come October 2 to Funked Up to dance and toast all night.
Also, it's our 30th edition so cool if you come celebrate with us!
Line up:
The Night Escapades
Once upon a time, The Night Escapades opened in the small venue during Funked Up and was one of their first performances. The group has since developed at lightning speed and Funked Up is proud to present this act as the evening's headliner. With an inexhaustible love of music and an unmistakable sound of their own. They seamlessly play funk, soul, hip-hop and ska together, resulting in an innovative and original sound. This combined with their Dutch-language, poetically rich lyrics – which have no shortage of humor – and a hefty dose of energy makes their music an upbeat, surprising and unique experience. Their live performances are a celebration of the freedom of music – more simply put, A FEAST!
Dr. Justice & the Smooth Operators
Dr Justice & the Smooth Operators got together in 2016. Over the years they developed their own style to perfection. This "Future Funk" is a mix of Disco, Electronic, Pop, and Funk. Catchy danceable songs that occasionally make you slip away or completely blow you away. Tight chops, three great backing singers, slappy bass, keytar and an ever-energetic performance.
Cover bin
Coverbak is not a mainstream cover band, but seek groove with an edge with more alternative repertoire. This 8-piece band takes you from the 80s with blitzing horn riffs, glamorous guitar solos and sassy bass lines.
Johnny & The Spacemachine
Johnny & The Spacemachine will open the evening. A serious band focused on the non-serious and always looking for intergalactic dance moves. Deep funk grooves, sultry chords and pumping bass runs. All this combined with lyrics about life, dead cats and fictional television characters
Bow & Tight
These guys turn a shy wallflower into another sing-along head-banger. Really, Bow & Tight play records that, whether you know them or not, everyone likes! From unknown filthy thick beats to master classic funk and beat popping Hip-Hop. The concept of the evening and the people set the mood, and Bow & Tight dive right in. Dressed up with craziness, punishment satyrs, their own glitter ball and Funky bakfiets, they make a big fissa out of everything!