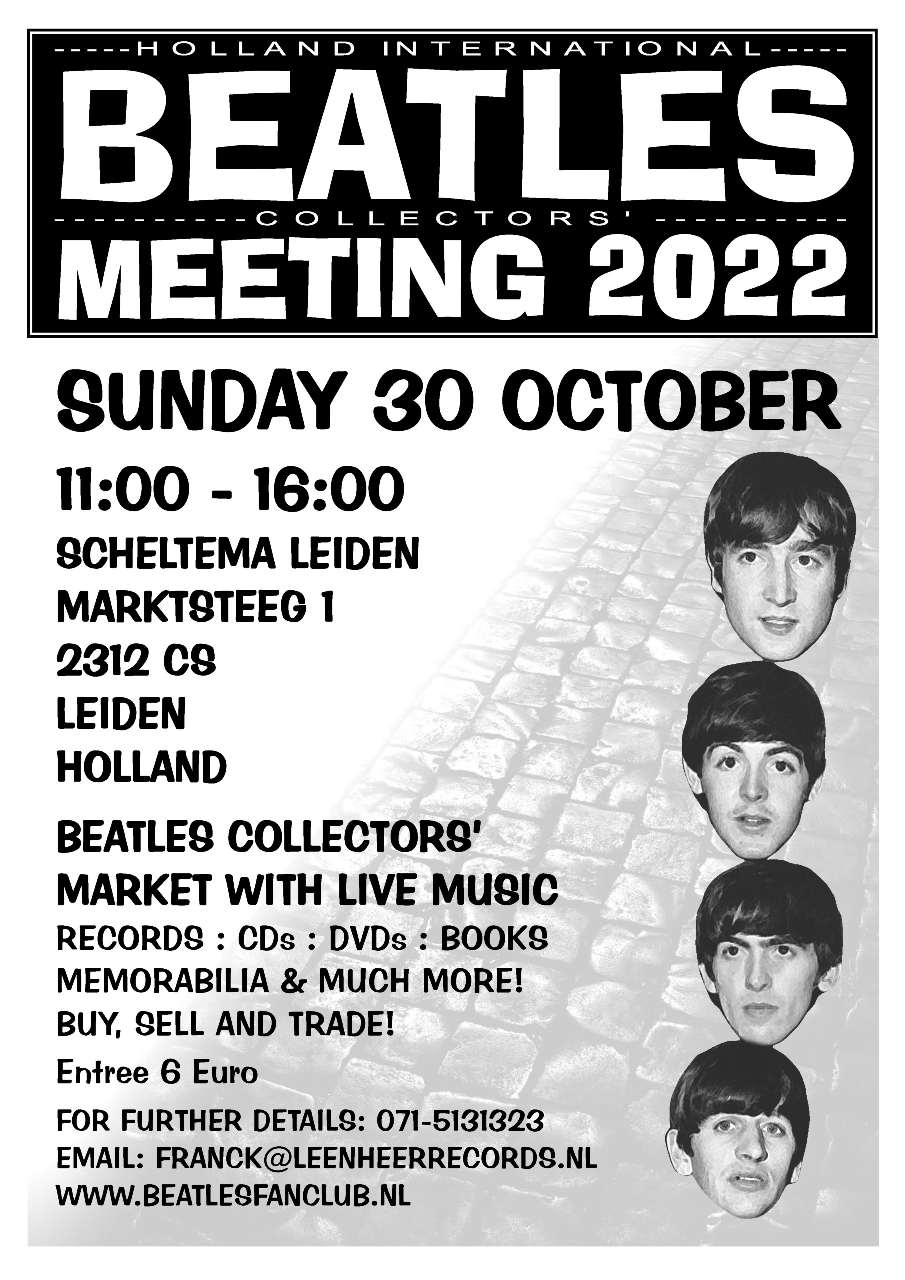 Beatles Meeting 2022
INTERNATIONAL BEATLES' COLLECTORS' FAIR ON SUNDAY, OCTOBER 30, 2022.
The Beatles have been "split up" for over 50 years, but their music still engages millions around the world and the sales of their old records (CDs) are staggering. Millions are sold worldwide every year!! And also in the download lists the Beatles are in the highest regions!
The music of John Lennon, Paul McCartney, George Harrison & Ringo Starr can now be called "classical". The song "Yesterday" was even voted "song of the (twentieth) century".
50 years after the breakup of The Beatles, there still seems to be a great deal of interest in everything the "fab four" did. And Paul McCartney and Ringo Starr are still playing to sold-out crowds worldwide!
Beatles fans, collectors and enthusiasts can visit Scheltema Leiden at the Marksteeg 1 (corner Oude Singel) in Leiden on Sunday, October 30 (close to Leiden-Centraal train station and with ample parking nearby) where, already for the 44th time, the "BEATLES-MEETING" will take place.
At this Beatles fair, fans, enthusiasts and collectors can browse the thousands of LPs, singles, CDs, DVDs, books, magazines, videos and memorabilia available to view, buy or trade.
There are also booths from the Beatles Fan Club and the Paul McCartney Fan Club. Beatles fan and collector Hans Roosenbrand presents "Liverpool, The Beatles, My Passion," a book about his love for Liverpool and about collecting Beatles items. Also present are Sven Kruizinga and John Stelck, they translated 200 songs of Paul McCartney into witty and current Dutch, 80 of those songs are bundled in a booklet that will be for sale at the Beatles Fair and John & Sven will also come to sing some of them ! And, of course, there will again be Beatles & Sixties Live music by Xavier Baudet.
Visitors can also bring Beatles records or memorabilia to trade/sell or have them valued at no obligation.
This day is organized by Franck Leenheer in collaboration with www.beatlesfanclub.nl , the most visited Dutch-language Beatles website.
BEAT-MEET 2022 in Leiden is open from 11 a.m. to 4 p.m. The entrance is 6 Euro.
Beat-Meet 2022 should not be missed as a Beatles fan!

*For more information: franck@leenheerrecords.nl